A Next Generation Virtual Data Experience

.

Never worry about paper documents, unprotected e-mails or risky drop boxes again. DealCockpit's virtual data rooms handle every aspect of the deal process, from origination to closing—simply and securely.
The DealCockpitTM Advantage
Why do companies, law firms, investment banks, restructuring professionals, and other dealmakers all over the globe rely upon our virtual data rooms for their transactions? We offer top-of-the-line security, service excellence, and a simple interface that cuts the time dealmakers need to devote to their transactions—at price point that helps bring down their overall costs. Consider these eight key advantages DealCockpitTM offers customers.
Why DealCockpit helps your deals take flight ?
1. Secure
Best-in-class security
protocols provide you with
total control in managing and
monitoring data, permissions,
and communications.
2. Reliable
We offer 24/7 technology
support and an intuitive user
interface honed over 10 years
of use by major global
companies.
3. Streamlined
We don't force customers to
buy multiple products to
accomplish their transactional
goals. Do your deal work in a
single place, for a single price.
4. Scalable
Create and manage as many
virtual data rooms as you need for as many transactions
as you desire with our easy-to-use interface.
5. Collaborative
Perform your deals from
anywhere. Seamlessly interact with your team and negotiate
with other parties all in one, secure environment.
6. Powerful
Take total control of the deal.
No more lost documents or
messy, insecure inboxes.
Track activity and keep the
deal on time and secure.
7. Integrated
Manage the entire deal
process—from sourcing and
vetting potential buyers to due
diligence and closing—in one
end-to-end digital platform.
8. Easy
No fuss, no drama. Within
minutes of signing up, you and
your team can be working on
transactions in your own stateof-
the-art virtual data room.
One Flexible Platform for Every. Type. of Deal.
DealCockpitTM is designed to meet your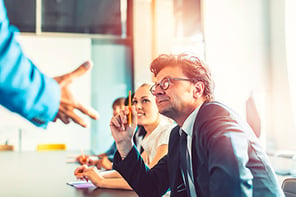 needs across the deal-making spectrum.
We match buyers and sellers and support
your fundraising, external growth, and
investment strategies with a single secure platform.
FIND BUYERS. RECEIVE BIDS. GATHER DATA. NEGOTIATE. FINALLY CLOSE.
— faster and more cost effectively.
Sell-Side M&A
Use DealCockpitTM to manage every aspect of your sell-side
transactions, from deal sourcing through the final close.
Expand the universe of buyers for your enterprise and negotiate the best-possible terms for your business via our one-of-a-kind deal sourcing tools.
Seamlessly move through the due diligence and Q&A processes and ensure greater security with a centralized, digital solution.
Collaborate and ease the negotiation and contracting processes.
Close your M&A deals in less time and at a lower cost than ever before.




Initial Public Offerings
Enhance compliance, collaborate to create stronger roadshows, move
the offering process faster, and achieve stronger IPO results.
Securely share large sets of complex data, as well as sensitive documents with parties inside and outside the company.
Better prepare for your roadshow and enhance communication among team members.
Automate work-intensive processes with a simple-to-use interface to speed up your offering timeline and improve returns.
Ensure the deal stays secure, compliant, and that workflows stay on track with easy-to-use monitoring and auditing tools.
Fundraising
Our tools help you find sources, negotiate stronger deal terms, and
complete capital-raising efforts more quickly and cost effectively.
Plan and organize more effectively to meet the questions of private equity and venture capital firms and reduce potential risks.
Use our advanced Q&A module to speed up the capital-raising process and provide you with complete control over your responses.
Centralize deal data to allow for the rapid and secure transfer of information to prospective investors.
Use our deal sourcing tools to help attract venture capital and raise funds more quickly and efficiently.




Buy-Side M&A
Centralize and digitize the entire acquisition process, organize your team
more effectively, and streamline and accelerate your diligence efforts.
Speed up document sharing and review and build data rooms that will give you team greater control and save time and money.
Improve collaboration and communication among members of your team, as well as deal advisors, and sellers.
Use advanced data analytics to gain instant insights into the dealmaking process, spot potential problems quickly, and easily track the progress of your deal.